Bunsters Hot Sauce: The tastiest paleo and vegan friendly hot sauce on the market
Bunsters, paleo and vegan friendly hot sauce with only whole ingredients. A cheeky Aussie brand from Perth claiming to be the tastiest hot sauce you've ever had.
Bunsters, a hot sauce company from Perth, have created what they claim to be the tastiest hot sauce you've ever tried. And they guarantee it. Offering a refund to anyone who disagrees and letting them keep the hot sauce.
A paleo and vegan friendly hot sauce that ticks all the boxes. Using only whole ingredients. Bunsters have created a thick delicious hot sauce that packs a punch. Having fun creating a cheeky Aussie brand with lots of personality. Self proclaiming to be the world's tastiest title.
Bunsters Hot Sauce paleo and vegan friendly ingredients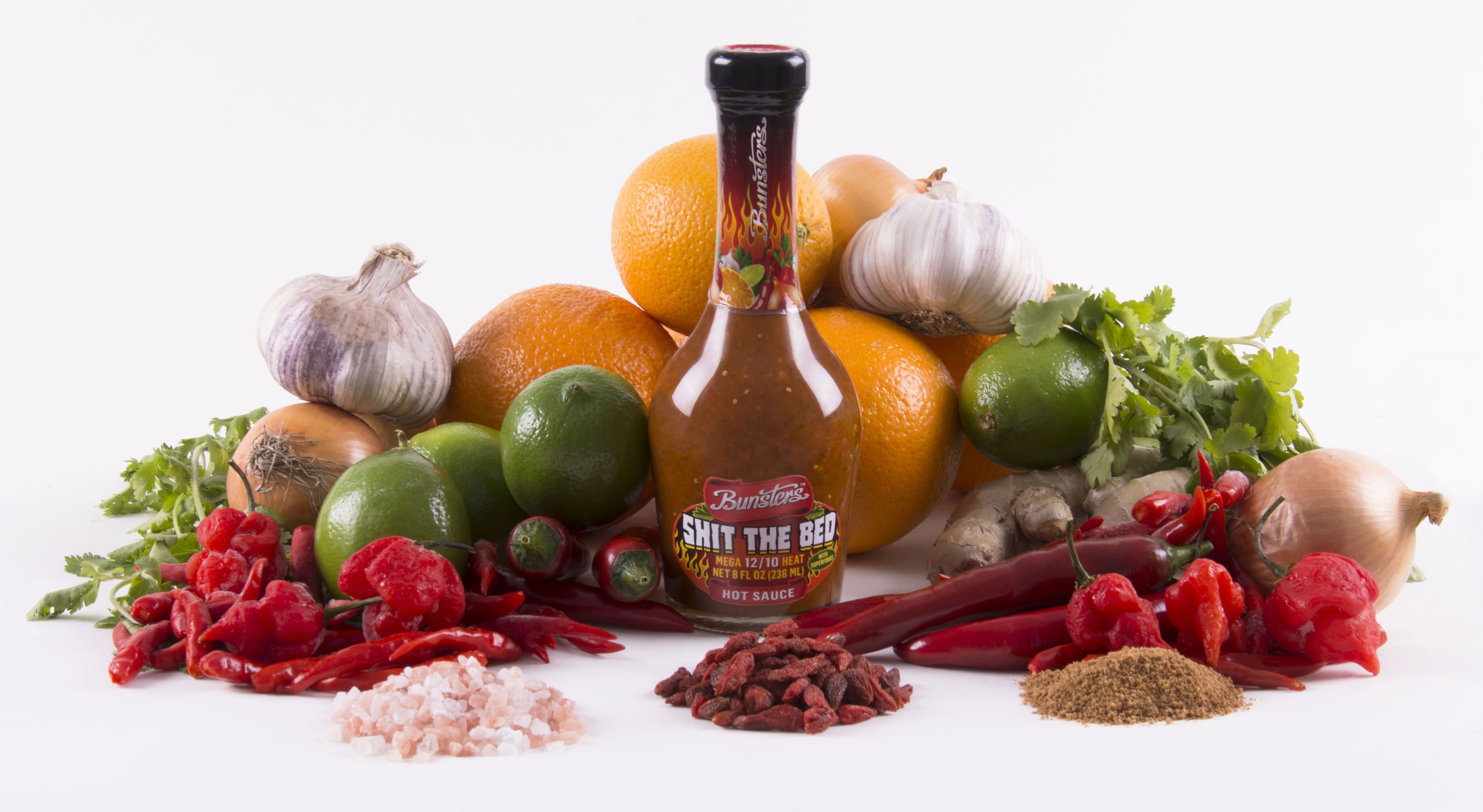 Renae Bunster, Bunsters founder, has focused on quality above all else. Taking three years to make her first really hot sauce. Not to say Renae's sauces are not hot though. More on that later.
"Everything in this sauce is there for a reason, and we're darn proud of every single little ingredient. There are no nasty chemicals, or cheap free loaders like water coming along for the ride. I eat this hot sauce everyday so I made it with the healthiest ingredients I could find."
Renae has chosen to use only whole ingredients, nothing dehydrated. And especially no fillers or preservatives. The hot sauce is even bottled in glass so there is no plastic impacting the taste.
Here are the ingredients Renae uses to make her sauces. Noticeably, no chilli extracts to get those beyond crazy hot levels. No water to get that fake heat. And no big base of white vinegar to preserve it forever and never eat it. This sauce is made for eating.
Ingredients:
ALL THE INGREDIENTS OF 7/10 HEAT Vegetables [Capsicums, Brown Onions, Carrots, Birds Eye Chillies, Garlic], Orange Juice, Tomatoes,  Coriander, Apple Cider Vinegar, Goji Berries, Lime Juice, Coconut Sugar, Ginger, Himalayan Pink Salt, Potato Starch
ALL THE INGREDIENTS OF SHIT THE BED (12/10) AND BLACK LABEL (16/10) Orange Juice, Vegetables [Chillies (Scorpion and Birds Eye), Brown Onions, Garlic], Apple Cider Vinegar, Coconut Sugar, Coriander, Lime Juice, Goji Berries, Ginger, Himalayan Pink Salt , Potato Starch
Is Bunsters Hot Sauce too hot for me?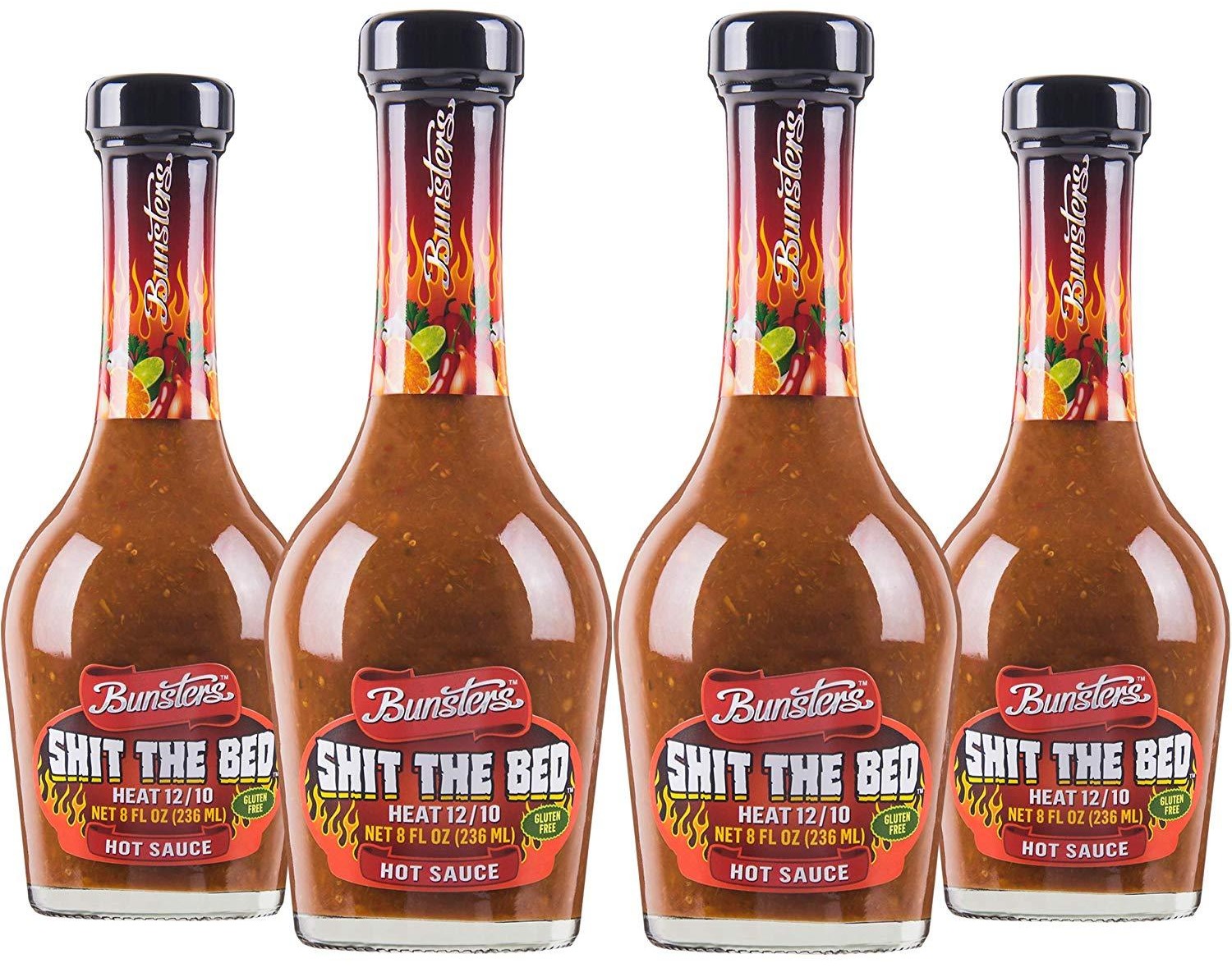 With a brilliantly cheeky name to show off how savage the hot sauce can be for some! Bunsters does cater with multiple levels of heat to serve most hot sauce enthusiasts.
So for your standard grocery store sriracha buyer ready to move up in the quality hot sauce world. You've got a premium thick pasta like hot sauce with Bunsters Hot Sauce 7/10 measuring at 1,800 Scovilles. Your everyday hot sauce that you love and appreciate the taste of.
Then things get a bit more interesting. If you're one to have grown up with chilli in your home, then you may need that real hot sauce kick. At 35,000 Scovilles, Bunsters Shit the Bed is for you, this sauce has a heat level 12/10 on their scale.
Meanwhile, for the "nutjobs that don't mind a bit of blood in their stool" as the Bunsters founder puts it. You want their hottest sauce which is the Black Label. Bunsters Black Label comes in at a whopping 99,000 Scovilles of pure heat. Achieving this feat without any chilli extracts! So it's actually tasty, while being reeeeally spicy. A 16/10 on their hot sauce scale.
Bunsters guarantee that their hot sauce is the best tasting hot sauce you've ever tried. Let them know if it's not the best hot sauce you've tasted and they'll refund your money and let you keep the hot sauce.
Aussie BuyersInternational Buyers
But is it gluten free?
Well, of course it's gluten free. But I only bring that up because Russell Brand was on the Hot Ones. A show where celebrities eat hot sauces and are asked questions. And Bunsters was featured in the lineup. Apparently, due to a postage mix up by Hot Ones producers. They were unable to get their lineup of sauces to Russell on time.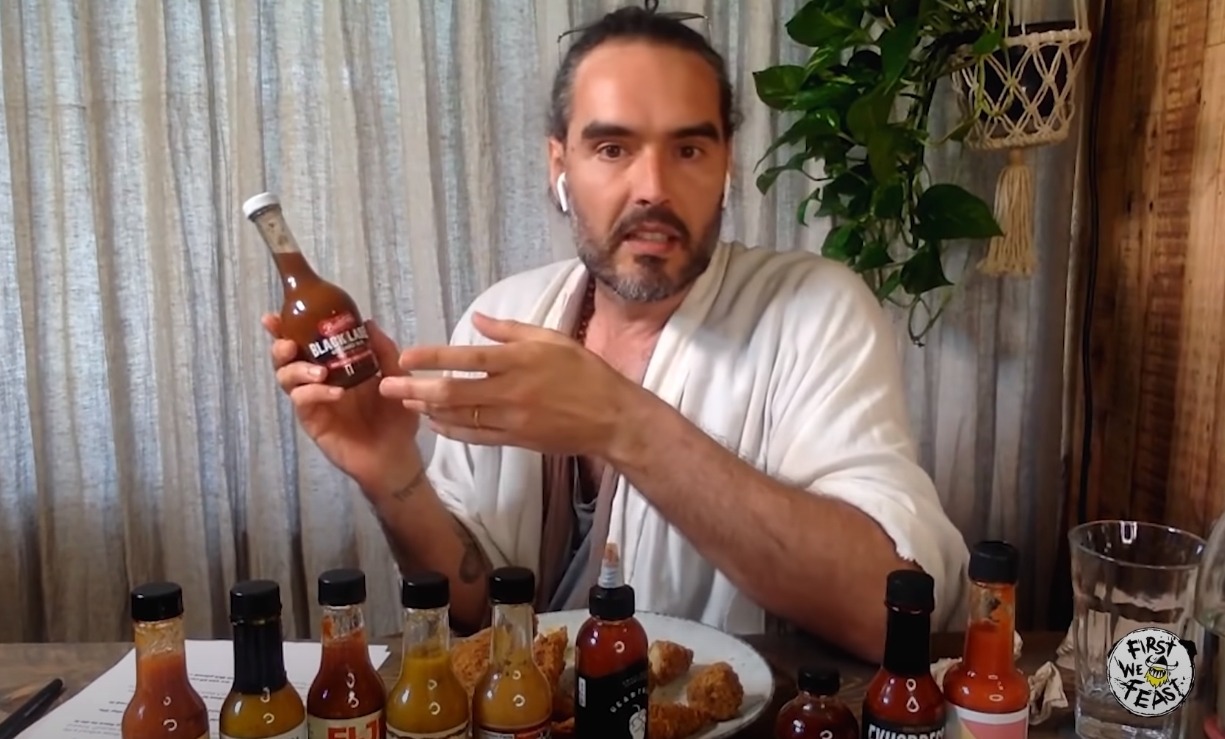 So the legendary Hop Burns & Black hot sauce shop in London was able to put together a lineup of sauces. One of which included the now notorious Bunsters Black Label. The 'May Cause A*** Leakage' comedic warning grabbing the eye of Russell Brand.

Great gift for your chilli loving friends
Check out the range of sauces at the Bunsters site to find the perfect sauce for you or a friend. And consider getting the Bunster Hot Sauce Making Kit as a memorable high quality gift.
Bunsters Hot Sauce Making KitAussie BuyersInternational Buyers